AAP revised juice policy!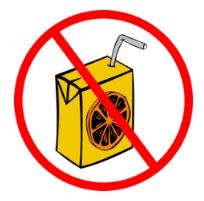 It's official the American Academy of Pediatrics now recommends children under age 1 should not drink juice.   The AAP has revised its policy: Fruit Juice in Infants, Children and Adolescents: Current Recommendation.  
The AAP now recommends juice should not be provided to children less than 1 years old (unless clinically necessary); no more than 4 oz for children ages 1-3 years old; no more than 4-6 oz for children ages 4-6 years old; and no more than 8 oz for children over 7 years old.  They add that when juice is given it should not be sipped throughout the day; and recommend not putting it in a bottle or easily transportable covered cups that make it easy to consume throughout the day.   The policy also highlights the importance of fresh fruit which has additional fiber making it a healthier alternative compared to juice.
As you can imagine we were pleased with these new recommendations!   We even take it a step further by recommending juice for special occasions only.  We feel that not providing juice, or other sugary beverages, on a daily basis will help keep children cavity free- which is always our number one goal!